Production Printers From UBT
Lots of businesses have greater demands when it comes to printing. That's why United Business Technologies provides production printers. With offices in Maryland and Virginia, but serving organizations nationwide, businesses can rely on UBT for their large printing demands. When your business needs high-quality, high volume production printing, UBT offers an excellent line of Canon production printers that allow you to create a wide variety of documents such as:
Marketing Documents
Flyers
Presentations
Company Reports
Newsletters & More!
Production Printers businesses can depend on starts with United Business Technologies. Take control over your companies large printing demands!
Browse our catalog of Production Printers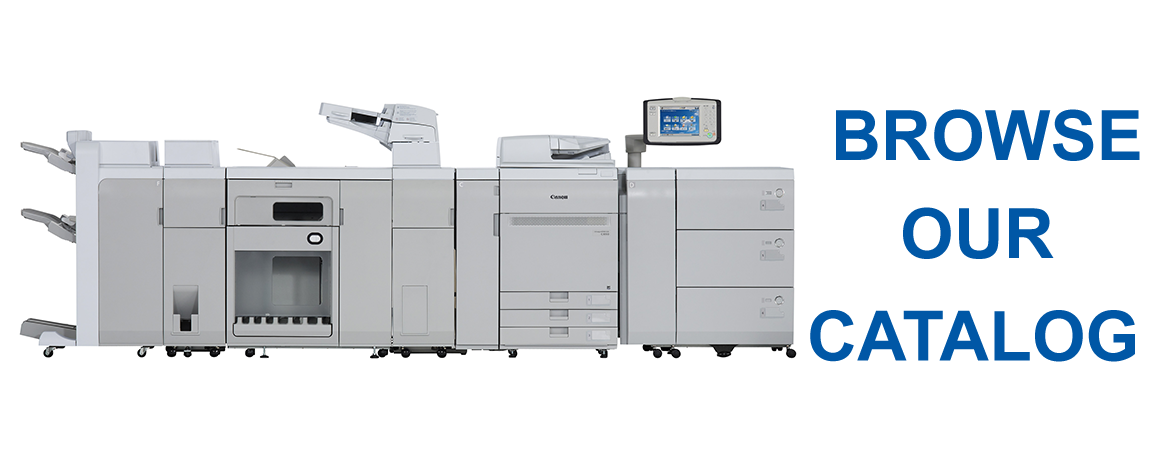 Color Digital Presses
When printing is your business, only the best will do. UBT's color digital presses in Washington, D.C. and beyond produce high-quality, high-volume printing that come with a variety of benefits. This equipment prints thousands of documents at high dpi resolutions within minutes. Produce sophisticated media with color digital presses from UBT with features that include:
Skew Control
Automatic De-Curling
Image Stabilization
Paper Registration
These are just some of the features you get with our color digital presses. With these and other features, you'll be expanding your business' capabilities and improving customer satisfaction.
Monochrome Digital Presses
Our monochrome digital presses produce the same high-quality prints as our color digital presses. Businesses in Maryland, New York and all over the U.S. can produce first-rate documents in a wide variety of options and on schedule. Monochrome digital presses from UBT allow you to print at 100+ pages per minute with high dpi resolutions. You'll also be able to avoid mistakes and re-prints with features such as skew control and automatic de-curling. Plus, our digital presses improve how and what you print. They'll print on everything from light, glossy stock to thick, rough stock.
Other Production Printer Features
United Business Technologies creates the competitive edge with additional important features:
Minimal Downtime

Replace parts quickly without the help of a technician
Reload toner cartridges and paper without print interruption

Eco-Friendly Features

At UBT, our production printers have recyclable parts, energy-saving modes and other features that help reduce emissions.

Finishing Accessories

Finishers/Staplers
Saddle Stitch Units
Ring Bind Units
Perfect Bind Units
Letter Size Capacity Trays
Production-Level Booklet Makers
More UBT Office Technologies
More UBT Office Technologies
Contact a professional from United Business Technologies today and get your business efficient and productive. We are your technology partner!